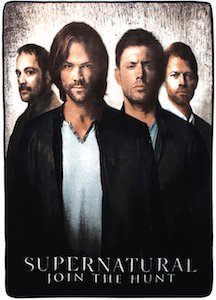 Do you want a fun throw blanket that can keep you warm while you keep watching Supernatural?
Now you can have this blanket that has the 4 boys of Supernatural on it. Yes Sam and Dean Winchester are on it but also Castiel and Crowley. Below the image of the 4 serious looking characters you can see the logo that says "Supernatural Join The Hunt".
This Supernatural blanket is 48 x 60 inch and that makes it the perfect size for use on the couch, bed and maybe even for on a road or plane trip.
No more need for a boring blanket because you can have a Supernatural blanket witch of course looks so much better.
You may also like: