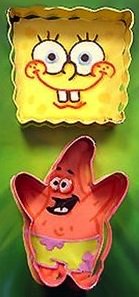 Boring round cookies taste great but they would be so much better if they looked more fun.
This cookie cutter set will help with that.
This set has a cookie cutter in the shape of Spongebob Squarepants and his friend Patrick Star.
Cookies in the shape of your favorite cartoon figures that will make them taste 10 times better.
And these metal cookie cutters can be used for other things to of course. Maybe you want Spongebob brownies and Patrick Star Sandwiches.
Time to be creative with this Spongebob Squarepants Cookie Cutter Set.