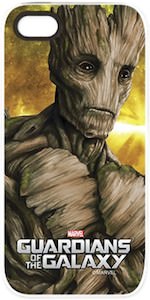 Now your iPhone can be protected with this Guardians of the Galaxy phone case.
This case for the iPhone 5s and iPhone 5 features Groot. Actually the whole back of this iPhone case is covered in a picture of him and it also has the Guardians of the Galaxy logo.
And your iPhone will be protected by a hard case with rubber insert so that it stays in tip top condition while you use it.
With Groot dressing up your phone it even becomes even better and we all want the coolest phone out there so why not do it with this case.
Come and take a better look at this Marvel Guardians of the Galaxy Groot iPhone Case.