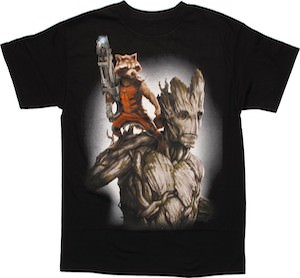 This black adult sized t-shirt shows Groot and Rocket Raccoon in front of a light source.
And as Rocket is not as big as Groot he decided to go stand on his shoulder holding his weapon in one hand.
This Guardians of the Galaxy t-shirt is fun because it shows two of the main characters up close and pretty big to.
You can get this Guardians of the Galaxy t-shirt in sizes Small – 3XL and all have a standard fit.
Just imagine hanging out with your friend while wearing this t-shirt. Yes I know they gone envy you for have it.
So do not wait any longer come and get your Marvel Guardians of the Galaxy Rocket Raccoon And Groot T-Shirt.