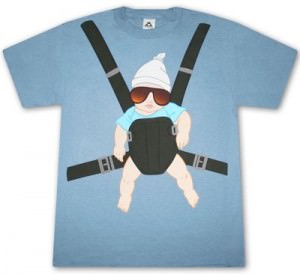 The Hangover is a hillarious comedy movie, with so much funny stuff that happens you can pick out many scenes to call your favorite. And if you love the Hangover then you know exactly what this t-shirt is all about.
For anyone else this t-shirt features baby Carlos in his front carrier strapped to one of the main characters Alan. Alan carries baby Carlos throughout the movie and now you too can carry baby Carlos and take a load off Alan with this baby Carlos t-shirt.
Get your Hangover Baby Carlos T-Shirt.