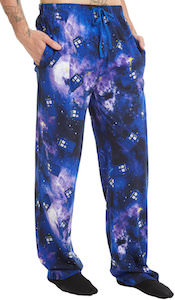 Now you can have Doctor Who pajama pants with the Tardis on them.
These pajama pants are mainly blue and show outer space in a galaxy far far away you can see the Tardis flying around and not one but many times.
Made from 100% cotton these Tardis pajama pants are made for you and besides for sleeping they are great for lounging around too.
You can get these Tardis lounge pants in men's sizes XSmall – XL and yes they will work on women to just be aware that the sizes are men's sizes.
So start the TV to rewatch your favorite Doctor Who episode while wearing Doctor Who pajama pants.
You may also like: