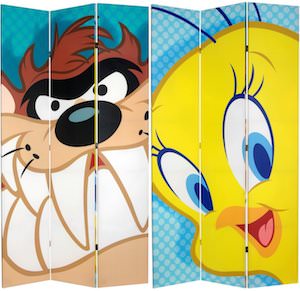 Are your always fighting with your brother/sister because you have to share a room? Are you a Looney Tunes fan?
Well, fight no longer with this cool Taz and Tweety canvas room divider you can divided the room equally. It will be like you have your own room and no more fighting.
This Tweety and Taz canvas room divider is blue with a big picture Tasmanian devils head on one side showing his big teeth smile ready to eat Tweety bird. On the other side is a cute big picture of Tweety birds with a cute little birdie smile.
Stop the madness now and divided your bedroom or any room with this Looney Tunes Tasmanian Devil and Tweety Bird Room Divider.