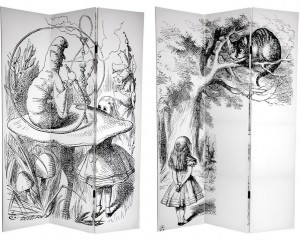 If you are looking for the next piece of decor for your home or office that will be a conversation piece? This will be that next classic piece you have been looking for. A Japanese inspired room partition screen is sure to please.
Lewis Carroll's book Alice in Wonderland tells of a magical place with lots of strange and wonderful creatures. This room partition has some amazing illustrations of the Cheshire Cat, the Caterpillar and Alice herself. Simply stunning.
The size of this screen is approximately 71 inches tall by 16 inches wide and 5/8 inches thick. It weighs about 10 pounds and is made of poly-cotton canvas wrapped around wooden spruce frames. It is light, portable and very durable.
Put yourself in your own wonderland with the Alice in Wonderland Folding Screen.