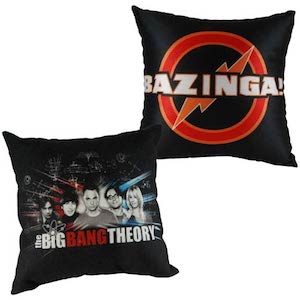 Are you a fan of the funniest voted number one television sitcom The Big Bang Theory.
Fans will fall in love with this awesome Big Bang Theory Pillow.
Featuring all your favorite cast members like Penny, Leonard, Sheldon, Howard and Raj right on the front with the logo.
On the back it has a big circle with a lighting bolt and Sheldon's most favorite saying Bazinga! right in the middle pillow.
This Bazinga pillow measures 13 inches is size. Its the perfect size to rest your head and dream about the funny show.
Curl up on your couch while watching your favorite episode of the big bang theory with your very own Big Bang Theory Pillow.