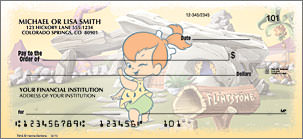 Why get boring plain checks when you can get them that look way more fun.
If you like The Flintstones then you will like these Pebbles checks.
Each pack of checks has 4 Pebbles designs in them and all of course have your information on it.
No more boring plain checks just spice them up the Flintstones way.