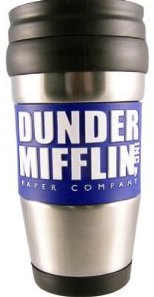 Most of us need a fresh brewed cup of coffee in the morning.
And if you work in The Office then you probably need a bit more then just a cup.
For those people there is this stainless steel travel mug that even has the Dunder Mifflin logo on it.
Now you will have enough coffee to get your day started and when you are out just get it refilled at any coffee place or maybe you Office coffee maker.
If The Office is your show then come check out this The Office Dunder Mifflin Travel Mug.