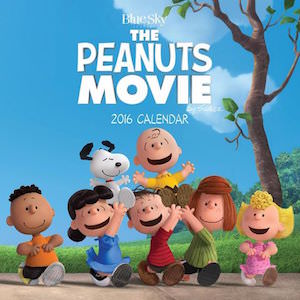 2016 will be a year to remember as the year you had that Peanuts wall calendar.
This wall calendar is all about The Peanuts Movie and yes Snoopy and Charlie Brown are there and so are all the other characters you love from the Peanuts cartoons.
This 2016 wall calendar will bring you an amazing picture every month with a calendar grid below it. And if you buy this calendar in 2015 then you are in luck as there is an extra page with just the last 4 months of 2015 on it so you can start using this calendar as soon as you get it.
COME CHECK OUT A MORE RECENT PEANUTS CALENDAR!