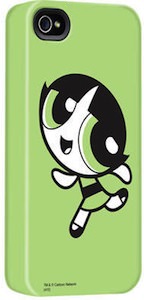 Buttercup likes the color green and that is why this Powerpuff Girls iPhone case is green and has a picture of Butter cup on it.
If you have an iPhone 5, iPhone 4S or iPhone 4 then you are in luck as you iPhone can now be super cool.
And this Powerpuff Girls iPhone case is special. It has a hard plastic shell and a soft silicone sleeve to protect you phone from harm and make it look fun.
This Buttercup phone case of course keeps all your ports and buttons from your phone accesable so that you can leave it on all the time for optimal protection from harm.
Come and check out this amazing looking Powerpuff Girls Buttercup iPhone Case.