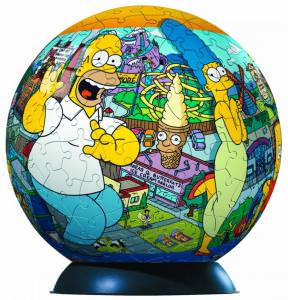 Simpsons fans put yourself to a new unique three – dimensional challenge, check out this cool jigsaw puzzle ball.
This puzzle ball features a great image of cool characters from the hit animated series The Simpsons, find Homer, Marge, Bart, Lisa and many other cool characters and landmarks.
Each puzzle piece is made from sturdy plastic and has a gentle curve with very precise fitting to ensure it snaps together to form this cool puzzle ball, a matching base stand is also included to hold up your jigsaw puzzle ball.
Go check out the video of The Simpsons 240 Piece Jigsaw puzzle ball.