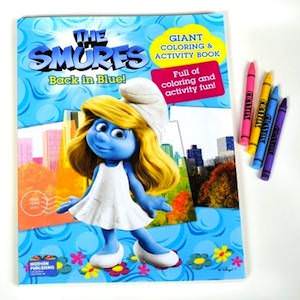 How fun would it be do do some coloring at your party?
I know it would be awesome to color with all your friends.
And this giant coloring and activity book of the Smurfs would be great for that.
This coloring book has 94 pages of fun and it even comes with 4 crayons so that any once can start using it right away.
The coloring book is called "The Smurfs Back in Blue!" and has a nice picture of Smurfette on the front. You just wonder what you can do and color on once of those 94 fun filled pages.
Don't wait just come and get your own The Smurfs Back In Blue Coloring And Activity Book.