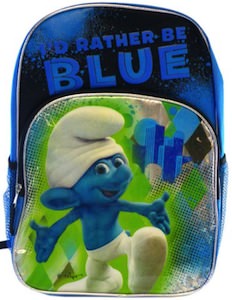 Going back to school will be way more fun if you have a Smurf backpack.
This the Smurfs backpack has two compartments both with zippers to close them and two mesh side pockets for things like a water bottle. And then there is the graphics. On the bigger compartment it says "I'd Rather Be Blue" and then on the smaller compartment you see a happy Smurf agains a green background and a city skyline.
And this the Smurfs backpack is 16″ tall making it big enough for school and many other activities.
You backpack is your important part of your gear so start with this The Smurfs 16 Inch Backpack.