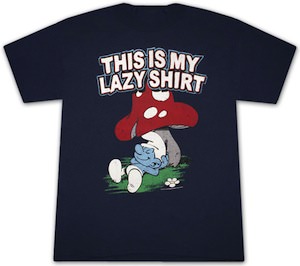 We all have those lazzy days and strangly they often are on Monday or Friday for me.
And for those days I now have the perfect t-shirt to wear.
This t-shirt shows the text "This is my lazy t-shirt" and below the text you can find a Smurf taking a nap under a big mushroom.
As expected from a real lazy Smurf they need a nap to and they love to do it outside under a mushroom.
This t-shirt is made of 100% cotton and comes in a range of adult sizes.
Come check out this The Smurfs This Is My Lazy T-Shirt.