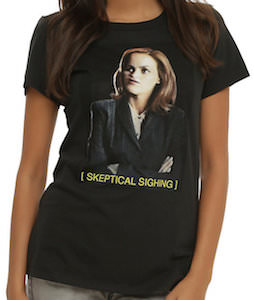 Fans of The X Files know of course that Agent Scully has to deal with a lot as Fox Mulder is a hand full.
On this t-shirt you can see an image of Dana Scully and below the image it says "Skeptical Sighing" witch of course is something she does a lot.
If you are looking for that special t-shirt from The X Files then why not get this women's t-shirt with the female FBI agent we all trust.
This sighing Scully t-shirt is black and made from 100% cotton and comes women's junior sizes XSmall – 2XL for that perfect fit and feel.