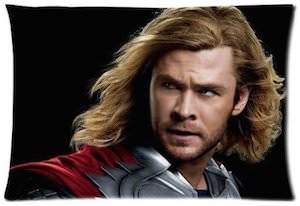 Were you a fan of the movies Thor and the Avengers?
If you are a fan and especially the ladies watch out the hot sexy Thor is coming into your dreams at night with this Thor pillow case.
This multi color Thor pillow case features the sexy Chris Hemsworth as Thor from the shoulders up with his long wavy blondish hair wearing is armour  from the movies Thor.
The pillow case is 50% cotton and 50% polyester for a soft feel for a dreamy sleep and is a standard size measuring at 20 inch by 30 inch.
You will go on your own adventure and dream of all your most favorite memories from the movies when you rest your head on this cool Thor Pillow Case.