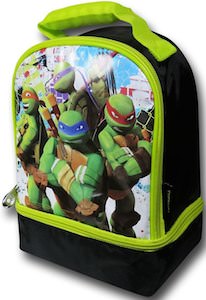 Are you a Teenage Mutant Ninja Turtle fan? Do you always bring your lunch to work or school in a paper bag?
Why carry an ordinary old lunch paper bag to school or work with you everyday when you can bring your lunch in this cool Teenage Mutant Ninja Turtle lunch bag.
This cool rad black and green TMNT lunch tote features a picture of the whole gang from Leonardo, Raphael, Donatello, and Michelangelo with their weapons ready to fight of there enemies.
It is 9″ x 7″ x 4″ in size for plenty of room to pack the perfect lunch to take with you for a long day at school.
The Teenage Mutant Ninja Turtles lunch box even has two compartments to separate your foods.
You will get your turtle power when you eat your lunch form this cool Teenage Mutant Ninja Turtle Lunch Bag.