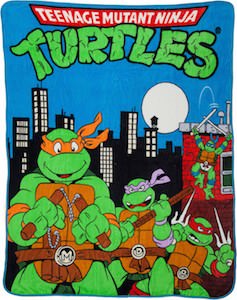 Sometimes it is just nice to hang in front of the TV while being warm and comfy under a blanket.
If you like the Teenage Mutant Ninja Turtles then this fleece blanket can quickly become your most favorite blanket out there.
First of all the TMNT blanket is warm and soft and is machine washable and it is also 45 x 60 inch making it the perfect size for lounging around.
And on this Teenage Mutant Ninja Turtles blanket you can see he logo on top and then a city skyline in the background and in front of all that all 4 Ninja Turtles.
So if you are often cold while sitting around then you just need this Teenage Mutant Ninja Turtles Fleece Blanket.