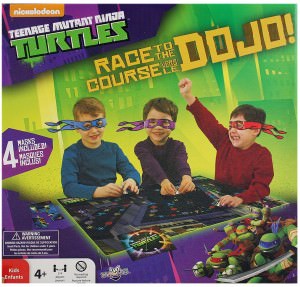 See who can get to the Dojo first to start their martial arts training.
This board game contains everything you will need to be the first Teenage Mutant Ninja Turtle to get there.
The game includes the game board, one spinner, four game board players with plastic stands, four puzzles, instructions and the best part of all – four masks for each of the players to become their favorite Turtle. There is a blue one for Leonardo, a purple one for Donatello, an orange one for Michelangelo and red one for Raphael.
Join the race to the Dojo with this Teenage Mutant Ninja Turtles Race to the Dojo Board Game.