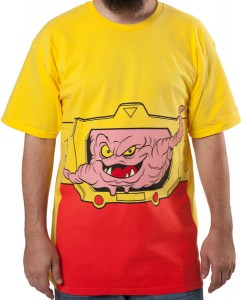 Watch out Teenage Mutant Ninja Turtles, Krang is on the loose and may come to your house and take over earth.
Now that Krang has a human shaped exo-suit, his brain-like form can show up anywhere.
The front of this bright yellow t-shirt looks like Krang's android body with the large over-sized belt buckle chamber that is Krang's new home. You can see him stretching out his tentacles from inside the belly, to try to grab you.
This 100% cotton screen printed t-shirt comes in men's sizes S to 3XL.
All fans of Krang and TMNT should check out this Teenage Mutant Ninja Turtles Krang Brain T-Shirt.