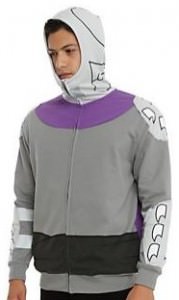 If your are a fan of the Teenage Mutant Ninja Turtles series and really love the ninja assassin trying to take them down then you will love this hoodie.
Featured on this hoodie is the Teenage Mutant Ninja Turtles Nemesis, the evil scheming Shredder. This hoodie is designed to look just like Shredder with the grey and purple colors and his claw spikes up and down the arms.
This Shredder hoodie is available in a wide variety of sizes and will be durable while very comfortable to wear for any occasion and keep in mind it can make a great Shredder costume.
Get into this super cool Teenage Mutant Ninja Turtles Shredder Hoodie.