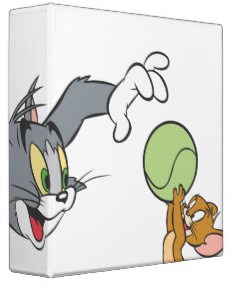 Do you remember the comedic rivalry between the cartoon characters Tom the house cat and Jerry the mouse from the Hanna and Barbera short animated films?
Now you can see it on this cool 3 ring white binder from Avery that is meant for 8.5" x 11" paper.
The picture on this binder shows Jerry holding a tennis ball, Tom's head and arm and it looks like he is going to grab the ball, then you look at the back of the binder and see that Tom is holding a tennis racket probably to swat at Jerry.
However, you know that Tom will never catch Jerry.
This Tom and Jerry binder comes in 3 widths, 1" (holds 175 sheets of paper), 1.5" (375 sheets) and 2" (500 sheets), has 2 ring types and you can get the inside in black or white.
Perfect for scrapbooking, photos, recipes, school or work, get this Tom and Jerry Vinyl 3 Ring Binder.