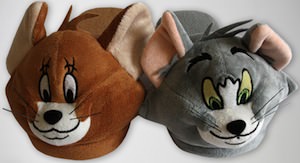 This is a fun and different pair of slippers.
The left foot looks different from the right one and that could be also a little problem as they are Tom and Jerry slippers.
So one foot is Jerry and the other foot is Tom and now you see why this could be fun. Only wear these when Tom and Jerry are friendly with each other because otherwise you don't know where you end up.
These slippers come in a range of adult sizes and look different and that makes it extra fun.
No more cold feet when you wear these Tom And Jerry Slippers.