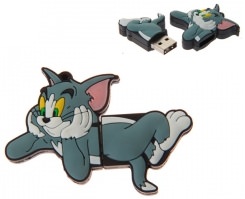 There is Tom the grey cat of the Tom and Jerry cartoons.
This time Tom is not running after Jerry but he is just relaxing while he watches your computer data.
Yes Tom is a USB flash drive and Tom acutally has 32GB of storage space so plenty for school work or the office.
Just remove head part of Tom's body and the USB connector becomes visible and you are ready to go.
If you are looking for a reliable storage device that looks more fun then the most flash drives then come have a look at this Tom And Jerry Flash Drive Of Tom The Cat.