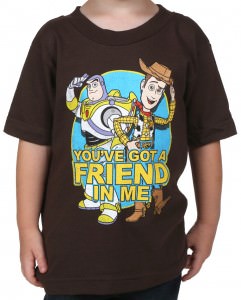 It's nice to have a best friend and your toddler can start to understand the idea of friendship with this cute t-shirt based on the hit movie series Toy Story.
This front of this t-shirt features the images of Buzz Lightyear, the Space Ranger action figure and Woody, the pull-string cowboy toy, standing in front of a large turquoise blue oval and both are saluting.
The title of the theme song for the three Toy Story movies "YOU'VE GOT A FRIEND IN ME" is printed near the bottom of the figures.
This brown 100% cotton t-shirt comes in toddler sizes 2T, 3T and 4T and has short sleeves and a crew neck.
Be sure to have a look at this Toy Story Best Friends Toddler T-Shirt.