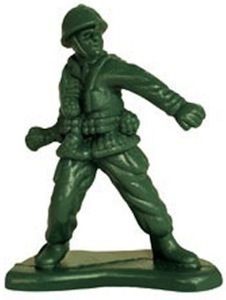 Normally the green soldiers don't leave a man behind but this time they made an exception.
This Toy Story fridge manget is one of the Green Army Men and this one is ready to trow a grenate.
A magnet that looks like a childs plastic soldier that is a great way to remeber the Toy Story movies.
This magnet is 2.5 x 3.5 inch and looks so real that it will look amazing on your fridge or any other metal surface.
Come and check out this Toy Story Green Army Man Magnet.