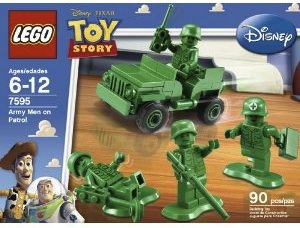 Toy Story is great and LEGO is great to and together they are Awesome and that make this set of green soldiers a great addition to your LEGO collection.
Just like the real Toy Story soldiers and that means fun fun fun. This LEGO set contains 4 green mini figures and a build able Jeep and of course a medial stretcher.
This Toy Story LEGO set is a great addition to other Toy Story Lego .
Order your Toy Story Army Men on Patrol.
You may also like: