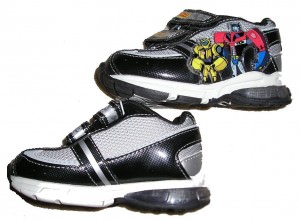 Get into a cool pair of Transformer shoes and all your friends will want a pair.
These Transformer shoes feature the good guys, the Autobots. With two velcro straps your little Tranformer will be able to easily slip this pair of Autobots shoes on and off,  and while on and in action they light up for a cool added effect. The outside of the shoes have a great detailed picture of Optimus Prime and BumbleBee standing tall and strong ready for action, and that is exactly how you will feel when you have these Tranformers Autobots shoes on.
Get your Transformers Autobots Shoes.