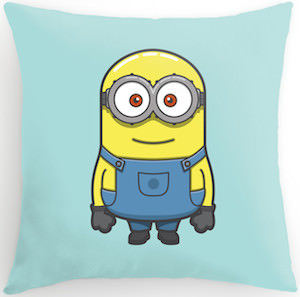 Minions are fun and that is why you would want one to.
Of course a big downside would be that they would eat all your banana's.
But you are in luck as you can nog get a fun throw pillow with a Minion on it. No real Minion that is a hassle to maintain but just a pillow with a cute yellow Minion on it.
This Despicable Me throw pillow shows the same image of the Minion on both side and this pillow comes in 3 sizes  16 x 16, 18 x 18 or 20 x 20 inch so that you can find the size that fits best on your couch, chair or bed.
Despicable Me fans now you can cuddle with the Minion on this Despicable Me Minion Throw Pillow.