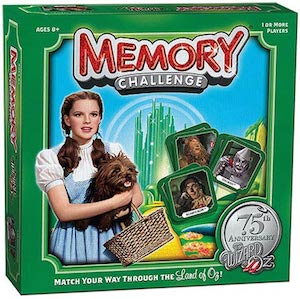 Follow the yellow brick road and celebrate the 75th anniversary of your all time favorite move " The Wizard Of Oz ".
Have a fun family night of board games and play this cool Wizard Of Oz Memory challenge Game.
The Wizard of Oz memory game has all your favorite character's Dorothy, Toto, Cowardly Lion, Tin Man, Scarecrow and many more.
You and your kids will go on an adventure with Dorothy and her friends find the wizard to help her find her way home back to Kansas.
While playing The Wizard Of Oz board game watch out for the wicked witch along the way as she will try to stop Dorothy from finding her way to find the wizard.
Bring  back all your favorite memories and enjoy a fun family night and play The Wizard of Oz Memory Challenge Game.