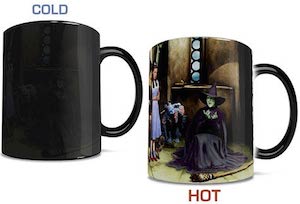 Do you love the movie " The Wizard Of Oz"? Do you like to stay inside on a cold winter day and drink hot beverage's while watching your favorite movies?
If so you will be excited to drink from this special Wizard of Oz melting witch morphing mug.
This Wizard of Oz mug can be deceiving when you first look. It just looks like an ordinary black cup but when you fill it with your favourite hot beverage it comes to life.
You see a picture of Dorothy, Cowardly Lion, Scarecrow, Tin man looking over the wicked witch of the west melting away. It holds 11 ounces of any hot drink you like.
Think of all your favourite memories when you drink from this Wizard of Oz Melting Witch Morphing Mug.