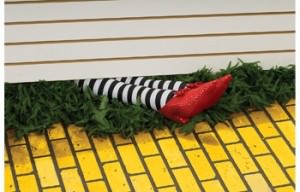 When you decorate your house for Halloween, don't forget to put lots of decorations on the outside as well as the inside.
Add a pair of these authentic looking legs, just how they looked in the 1939 hit movie The Wizard of Oz, when Dorothy's house fell on the Wicked Witch of the East and crushed all of her except her legs and her iconic ruby slippers.
This Halloween decoration or stage prop consists of two stuffed legs, each 24" long, with white and black horizontal striped stockings and red sequined fabric "ruby slippers" on the feet.
Remember, there's no place like home, when you decorate your house with this Wizard of Oz Witch Legs With Ruby Red Slippers Halloween Decoration.