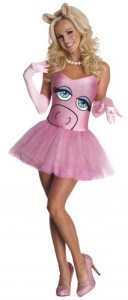 Miss Piggy is one one of the most popular of the Muppets. She's is top notch, dresses to a tee and is beautiful beyond compare. How could any frog resist?
This costume is a pretty pink dress with Miss Piggy's face across the front, it has glitter and clear straps. The gloves and necklace adds some elegance and class. To top it all off, you have to add the pig ears.
This pretty costume comes in S, M and L and comes with a pink dress, pink glitter tutu, long pink gloves that has an attached ring, a pearl necklace and a headband with attached pig ears.
Look at your pink best in this Women's Miss Piggy Costume.