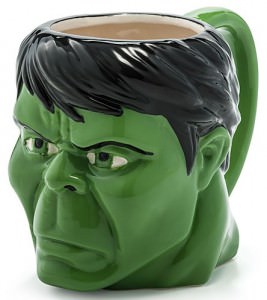 Me Hulk, Me Smash, Me Thirsty, Me Need Coffee Or Tea, Me Use Hulk Mug.
This Marvel mug features is the head of the awesome superhero The Hulk moulded and in 3D with all of the fine details of face muscles, green skin and black hair. SMASH TIME!
An officially licensed Marvel Hulk mug that is made from durable ceramic and holds up to 16 ounces of your favorite liquid, you can drink out of it or put it up on a shelf and add it to your Incredible Hulk collection.
Before "SMASH TIME" enjoy a beverage in the Marvel Hulk 16oz Molded Mug.