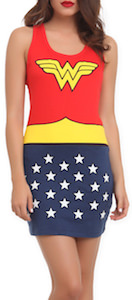 Did you always felt a bit like a superhero?
How about dressing like one?
Now you can become a bit more like Wonder Woman by simply wearing this costume dress.
This is a tank top style dress with a racer back and it's made from 95% cotton and 5% spandex and is nice and stretchy to make it fit you bodies curves.
As you can see on the picture the dress is red on the top with the Wonder Woman logo in yellow then there is a yellow band and below that a blue skirt part that is covered with white stars all in the style of the Wonder Woman's outfit.
This Wonder Woman dress come in sizes Small – XLarge and all are junior fits.
Dress up as Wonder Woman for a party or just for everyday with this Wonder Woman Costume Dress.