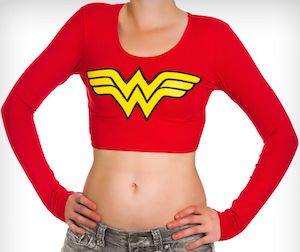 If you are looking for a sexy shirt that bring out the Superhero in you then you may want to take a look at this Wonder Woman crop top.
The top is red and only covers the top of your torso leaving the belly button and more exposed but it does have nice long sleeves. And on this red top it has a yellow Wonder Woman logo making the shirt really come to life.
The Wonder Woman crop top is made from 95% cotton and 5% spandex to give it the stretch you like and the shirt is available in a bunch of women's sizes to fit you right.
You may also like: