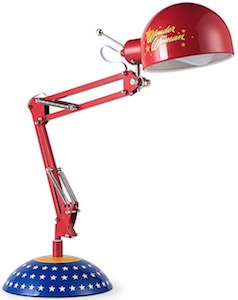 If you like to have some nice light on your desk then you just need this Wonder Woman desk lamp.
The architect desk lamp is easy to adjust so that you have the light where you want it.
And as it is a Wonder Woman lamp it has cool details like a blue base with stars and the rest of the lamp is red with on the lampshade you can find the Wonder Woman logo on one side and Wonder Woman herself on the other side.
The Wonder Woman architect desk lamp can hold a 40w max incandescent bulb or a 13w fluorescent bulb.
You may also like: