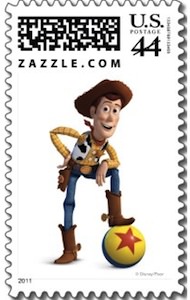 Here you have our friend Woody from Toy Story in his Cowboy gear leaning on a ball with a star.
This all to look nice on a stamp that you now can use to send mail. Great for birthday invitations or to any other mail you like to send.
You can get this postage stamp in different values ($.29 – $4.95) so that the right amount is there for your postage needs.
Make the world more fun with these Toy Story Woody Stamps.
You may also like: