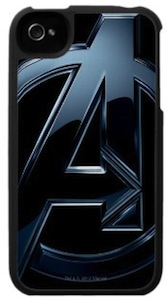 If you are in to superhero's then this is the product to look at.
This case for the iPhone 4 and iPhone 4S shows the Avengers logo on it. And as you know the Avengers is not just a Superhero no it is a bunch of superhero's and this is their logo.
The iPhone case is made by Speck and that means that you can stop worring about your phone knowing it is protected by this strong case.
The black edges of the case work well with the black back with the amazing looking Avengers logo.
You just have to come have a closer look at this The Avengers Logo iPhone Case.