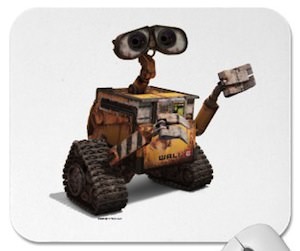 Need some help with that computer work your are doing?
Maybe Wall-E can help you.
On the other hand his main job is cleaning up messes so maybe he just waits till you are done.
But in the mean time he will be waiting on your new mousepad.
This mousepad as you expect shows Wall-E staring at you while he waits for work.
And a quality Wall-E mousepad of course has a non slip back to stay in place while the work is being done.
Come check out this cute Wall-E Mousepad.