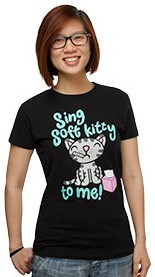 If you have ever watched the hit TV show The Big Bang Theory, you will know and love the song Soft Kitty, Warm Kitty, Little ball of fur.
Sheldon loves to have his mom or Penny sing him this song when he is feeling sick.
Now when you are feeling a little under the weather, you can let everyone know that you need some soothing, by wearing this black fitted t-shirt with the picture of a two-toned grey cat holding a thermometer in his mouth and a pink box of tissues by his feet. This cute t-shirt comes in women's sizes S – 2XL.
This Big Bang t-shirt has the words "Sing soft kitty to me!" on it, so people will know exactly what you want.
Don't be sad, you will be purring again soon like little kitty, when you wear this The Big Bang Theory Soft Kitty T-Shirt.