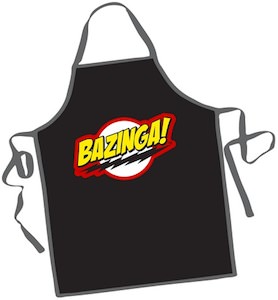 Spend a lot of time cooking or baking in the kitchen?
If you love the funny catch phrase Bazinga  from the most popular number one comedy TV show The Big Bang Theory.  This apron is the perfect choice for you to help keep yourself clean while creating your geeky masterpiece in the kitchen.
It is a black apron with Sheldon's most favorite word Bazinga on the front.
So if you are a die hard Sheldon fan and you always make a mess when you cook then you will need to get your own special The Big Bang Theory Bazinga Apron.