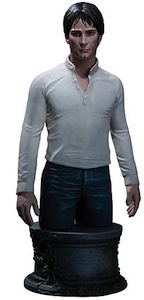 Bill may be old but he still has the looks. This True Blood character wants to be your friend.
But remember You need to invite them in they can't get in to your home without your permission.
This bust of vampire Bill Compton is a great addition to any True Blood collection. And this bust has such a great amount of detail that you will wonder if that is real blood dripping from Bill's mouth.
With 6 3/4 inch this bust has the perfect size to fit in your collection. And there are only 5000 pieces of Bill Compton made so it will be a real collectors item real soon.
Go enjoy you vampires with this True Blood Bill Compton Bust.