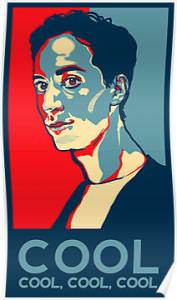 Cool. Cool, Cool, Cool.
Yes this is the popular line that Abed Nadir uses on the cool TV series Community, Abed is one of the nerdy characters that has a very unique sense of humor but still captivates everybody that meets him.
On this poster you will find an upper portrait look of Abed with the saying "COOL COOL, COOL, COOL." underneath him, this awesome community poster is also in that popular color and style of the 2008 Barrack Obama campaign.
You can get this reall nice poster in a variety of sizes and check out the different types of prints from canvas prints to matted prints and much more.
Lighten up any room with the Community Abed Nadir Cool Poster.