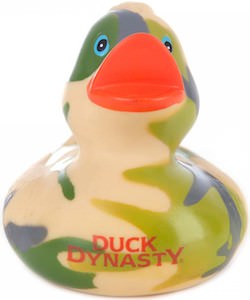 Bath time will be even better if you had a Duck Dynasty rubber duckie and you are in luck as there now is one.
This rubber duck is not yellow it's a creme color with green and brown camouflage on it and the Duck Dynasty logo.
For this duck you don't need a gun as it is just gone float around and you can't eat it anyways.
A duck like this is great fun in the tub or pool. And maybe get a Duck Dynasty duck call to see if it responds.
Lets get ready for a soak in the tub with this Duck Dynasty Rubber Duckie.