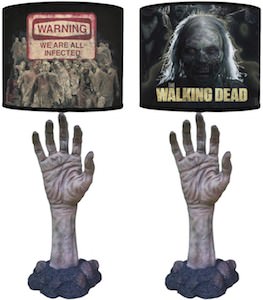 Are you in need of some light for the dark times ahead?
How about a The Walking Dead table lamp?
OK the lamp may look a bit freaky but that makes it fun.
The lamp base is an arm sticking out of the ground and on top of that a lampshade with on one side a Walker up close with The Walking Dead logo and on the other side a whole bunch of walkers and a sign that says "Warning We Are All Infected".
The Walking Dead lamp can hold a bulb up to 60 watt (not included).
Bring light to the dark with this The Walking Dead Table Lamp.