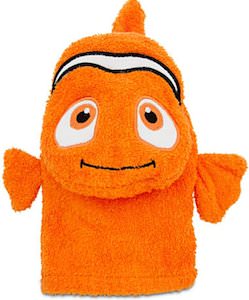 Bath time will be so much more fun with a special bath mitt.
And now there is a Finding Nemo bath mitt that is shaped just like the lost fish.
This orange bath mitt will make bath time easier and kids are gone love it when they are washed by Nemo.
And Nemo is a fish so he is gone love to play in the bath to. And maybe this mitt can become a puppet when enjoying the water.
Lets add some fun to bath time with this Finding Nemo Bath Mitt.