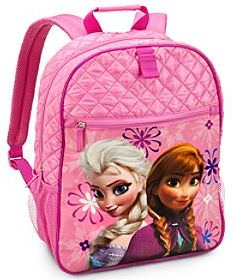 If you kids into the Disney movie Frozen and they like pink then they will love this backpack.
This pink backpack shows a big picture of the sisters Anna and Elsa from the Frozen movie.
And this backpack is great for almost any occasion, you can take it to school, daycare, camp, work or just to play with.
The backpack has two compartments and mesh side pockets.
And if your kid looses things easily then now you can get this bag personalized with their name so that it will be clear who's bag it is.
Get ready for a cold winter and enjoy this Disney Frozen Anna And Elsa Pink Backpack.