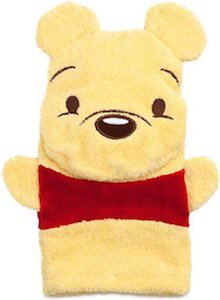 Does your little one hate to have a bath. Well, make bath time into fun time with this cute Winnie the Pooh bath mitt.
Your little one will be full of giggles and smiles when he/she sees this Winnie the Pooh puppet bath mitt.
This adorable Winnie the Pooh bath is in the shape of Winnie the Pooh with his red sweater and embroidered eyes, mouth and nose.
It is 100% cotton that will feel so soft on your baby's skin and measures 8 3/4" H x 5" W in size.
The Winnie the Pooh bath mitt would make the perfect baby shower present.
Enjoy bath time with your baby while using this cute Winnie the Pooh Bath Mitt.