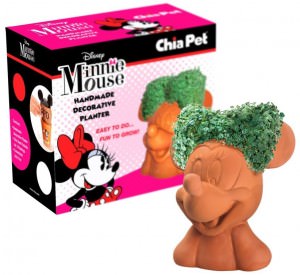 "Ch – ch – ch – chia!" Does this sound familiar?
Chia pets have been advertised since 1977 and now there is one that your children or perhaps yourself will love – a Minnie Mouse Chia pet.
This handmade terra cotta pottery is a bust of Disney's Minnie Mouse with her smiling face and big ears. After soaking your chia seeds, place them on her head and in one to two weeks, they will grow into a living bow between her ears.
The kit comes with everything you need to have this cute Minnie Mouse Chia pet, the planter, enough chia seeds for three plantings, a plastic drip tray and complete instructions and care.
Surprise a Disney fan with this fun, novelty Minnie Mouse Chia Pet Decorative Planter.