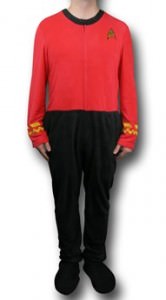 The USS Enterprise was such a large ship that it was like a very large city. Every city needs some help to secure everyone and everything inside. They too have security to help with this. Now you can get in your pajamas and look like a Star Trek Security Guard.
The Star Trek Security Pajamas are one piece, but are made to look like they are two. The "top" is colored red with the Star Trek badge over the left chest and yellow markings around the wrists. The "bottoms" look like black pants with the black feet emulating your shoes.
These pajamas come in men's sizing from a Small to an XL. They are made from 100% polyester, have a full length zipper and have feet attached.
Live Long and Prosper or just get in your Star Trek Security Pajamas.